Tile Flooring in Miamisburg, OH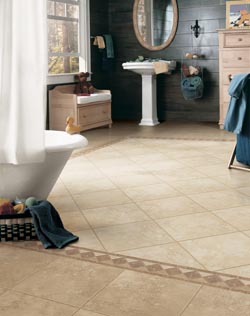 Enhance the aesthetics of your rooms and boost your overall property value. Tile is a top choice thanks to its enduring beauty and remarkable strength.
Visit Buddy's Flooring America when you need beautiful tile to transform your home or business. We offer one of the widest selections of brand-name tile flooring in Miamisburg, OH, with options available to suit every taste. Check out our local showroom today to explore the many tile styles available, including: Ceramic, Porcelain, Marble, Travertine, Glass and Mosaic.
Find Your Ideal Tile Type
Do you prefer timeless looks that never go out of fashion? Are you more inclined to bold designs that make a statement? No matter what your preferences may be, our team will help you find our ideal tile flooring.
Our products—including our popular ceramic and porcelain tile floors—come in many different colors, sizes, patterns, textures, and shapes. With so many options available, it's easy to create a unique interior design that speaks to your tastes and your lifestyle.
We recognize that not every shopper knows what they are looking for. Turn to our staff for assistance when you need help choosing the right tile for your project. We're always happy to make product recommendations based on your stylistic preferences, performance expectations, and price range. Furthermore, we can answer any questions you may have about the differences between different tile types and their particular maintenance needs. Stop by our tile store today to get your flooring transformation started.
Benefits Beyond Beauty
Ceramic tile and similar materials are perhaps best known for their elegant appearance. However, tile has a lot more to offer than just good looks. For example, tile is one of the strongest flooring materials on the market. It's scratch- and dent-resistant, and while a tile may crack, it takes a lot of force to make it happen. Furthermore, if a tile does somehow get damaged, you can replace that singular piece instead of your entire floor.
Tile flooring is also easy to clean and relatively low maintenance. While the grout between the tiles will need some occasional attention, most of the time you may simply sweep or mop your tile floor to keep it looking like new. In fact, with just a little routine maintenance, tile retains its beauty for decades.
Contact us for more details on our tile selection. We serve customers throughout Miamisburg, Ohio, and the neighboring communities.